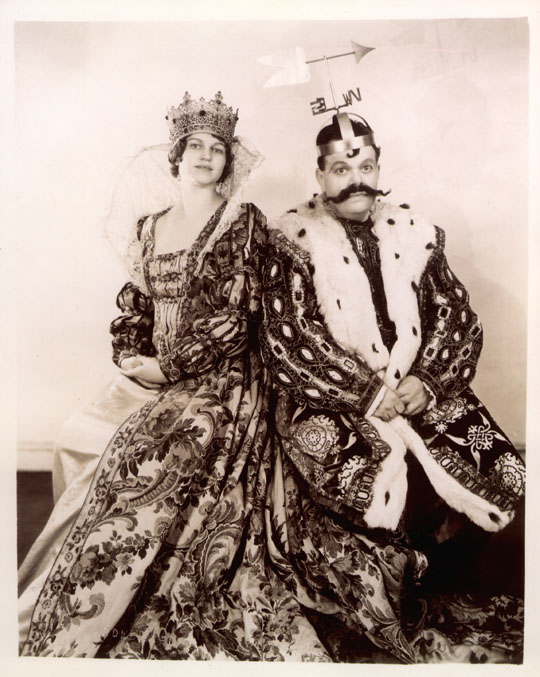 Heinz & Dorothy wish you a singing Happy new Year, 1938
The Rarest Thing on Earth
A Born Comedian
Hal Raynor [Heinz Rubel] convulses the most staid and care-worn audiences with his fund of fun, his catchy side-splitting songs, his patter - - brimful of laughs, and his mirth provoking personality.
The desired touch of youthful feminine beauty is supplied by Dorothy Deuel, featured song and dance artist of the Music Box Revue, the Winter Garden, Greenwich Village Follies, and a further succession of recent Broadway hits.
Perhaps you remember this pair in the King Kill Kare success (National Bisquit Hour) which ran for eleven months over the blue network, NBC. And again, have you seenhal's shorts? -- movie shorts, of course. The strip at the left is from "Watch Your Stomach Week," put on by Fox. If you give him a piano and a little encouragement, he will do it fo you.
And when you hear your favorite comedian on the air, do you know you are probably listening to Scripts by Raynor? -- which means Songs by Raynor, too.
"You Nasty Man," "Do You Wanna Buy a Duck, Quack?" 'cause "I love You Apples."
"Nasturtium"!
It must be not be held against Hal Raynor that he is a graduate of the University of Wisconsin. We know it will leak out sooner or later so we face the issue here and now. He's just as smart as if he hadn't gone to college, partly because – like the rest of you — he's forgotten all he ever learned, anyhow. He did the best he could for musical shows. "Meet he prince" and "Kikmi," which went on the road with their complete cast — what a break that is for any oppressed student! – and what a hero was Hal! People liked his style enough that he was engaged to write a daily humorous column for the Wisconsin State Journal, which column was published and syndicated for five years under his pen name. It took the war to dampen his ardor ! He was in the Navy (submarine service) where he served from wet to wetter, being finally inveigled into North Sea Mining Squadron. This unit took its name from the fact that the fellows diverted themselves laying mines in the North Sea. When he finally came up for air, he couldn't get enough of it. He's been on the air pretty generally ever since. After fooling around writing music and lyrics for a couple of musical comedies which were presented successfully in Chicago. "Take-Off" and "Kinky," he thought up, wrote out, and put on the program, "World Book Man." This developed into a nation wide feature. For eleven months he wrote the scripts and played the "King in the King Kill Kare" program sponsored by the National Bisquit Company, WJZ blue network. Beside personally performing on the stage, in the movies and over the air, Raynor has been one of the leading writers of radio scripts for better than six years. His own songs are counted not by scores, but by hundreds. You can hear at least one of these each week on a coast-to-coast hook-up. His life ambition was to be an operatic baritone — he studied opera for year — but managers take one good look at him — and hand him a contract as leading comedian. TRY HIM OVER ON YOUR PIANO.
Dorothy Deuel Rubel and Heinz as Hal Raynor, working with Joe Penner.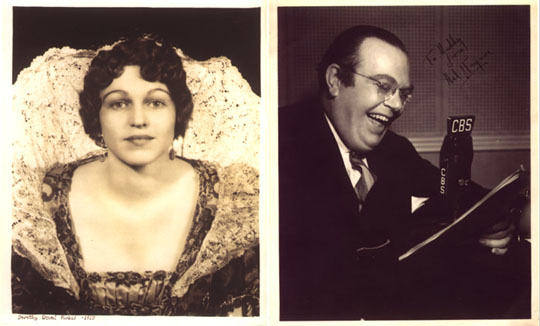 This is the kind of story we don't tell pretty girls from the country because if they have ever won a beauty contest in their home town, they forthwith dash off to some metropolis expecting within the month to break out in lights on a Great White Way.
Dorothy's mother brought her north to New York to cure her of her "craze" for the Stage. It was during school vacation and Dorothy had three weeks in which to land herself a contract with some good show. Well, —and this is what you won't believe, but it's the truth, just the same — she did just that. What seems even more incredible, she never missed one week's time under contract in the ensuing six years. From that first part in "The Potters," she signed for thirteen weeks vaudeville, Keith Circuit. When the act played New York, Irving Berlin heard it and engaged Dorothy at once as dance lead in the Music Box Revue. This had a nine months run. A lead in the Greenwich Village Follies with fourteen months in New York and a road tour followed, after which she was featured in the Winter Garden Show, "The Great Temptation." during this time she wrote and directed "Raggy Muffin." Since then several straight dramatic productions have claimed her: she has played leads in such plays as Tarkington's "Seventeen," and "Up in the Air." Dorothy offers a thrilling contrast and a perfect compliment to Hal's performance — however you take it.
Dorothy's earlier acting career includes Pueblo Colorado's the Wednesday Morning Club.
To Odo Stade Bio | Back to The Shriek | Film Your Movie at Rubel Castle